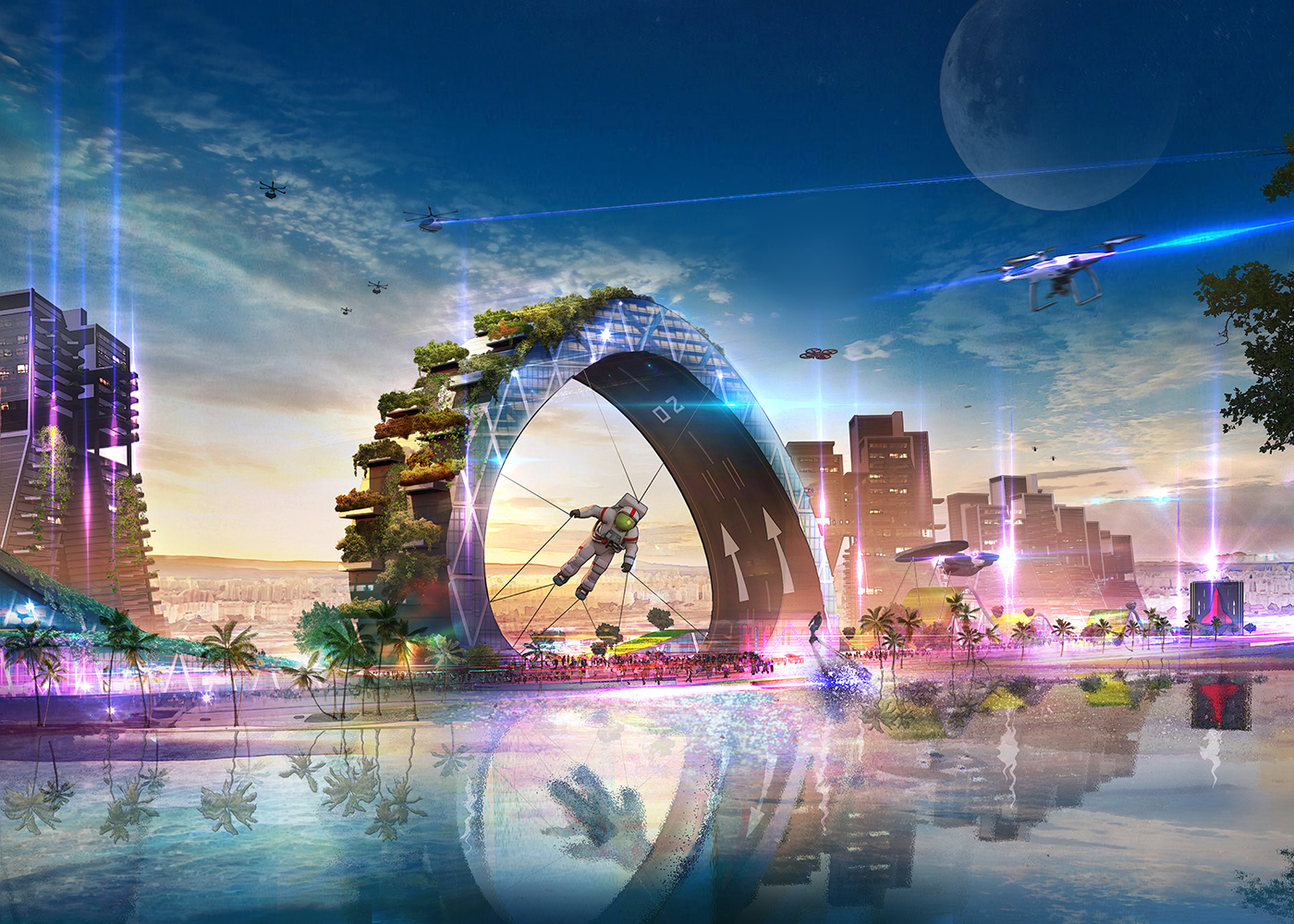 Paya Lebar Runway Competition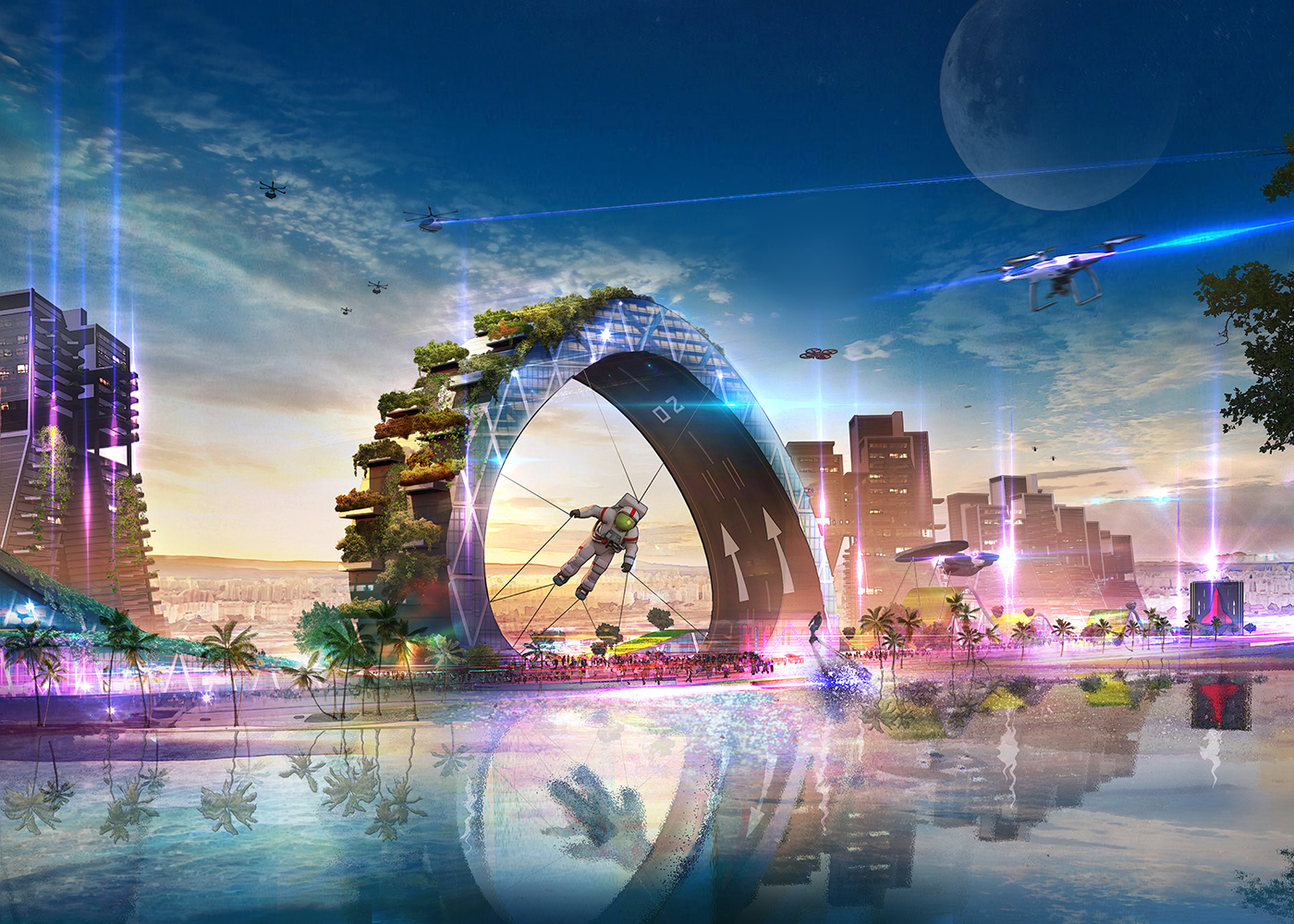 We participated in the 2020 Paya Lebar Runway Competition to reimagine the future use of the former military aristrip. These series of images illustrate our vision for the runway, centred on the idea to develop Singaporeans for Outer Space Exploration.

CONCEPT
Idealised by a journey through the past, present and future of Singapore's eminence as an aviation hub, The Singapore Loop – an uninterrupted 3.8km experiential passage delineated by undulating aerodynamic silhouettes and terrain – emerges from the terra firma of the old Paya Lebar Airbase landing strip. The runway of the future invites people from all over the world to a somatic exploration of nostalgic yet forward-looking aspirations of Singapore's potential to boldly venture higher than the skies, into outer space and beyond.

Past – The Little Red Dot Aviation Museum

The first of ten thematic zones in the 3.8km journey, explorers are treated to an evocative display of historical commercial and military aircrafts (Douglas DC4, Boeing 707, Supersonic Concorde, C-130 Hercules and F15-SG Strike Eagle, among others) that operated in Paya Lebar Airport during its heyday as Singapore's main commercial airport from 1955 to 1981 and thereupon as a military airbase. Defined by a series of intertwining elevated paths for a 360 degree vantage view, interstitial spaces between the aircraft exhibits will also be used for hosting events, mobile kiosks, food and beverage outlets, thereby creating a highly interactive, family-friendly venue for people from all walks of life.

Present – The Orbit Tower & Vertical Urban Farm

The mid-point on a journey through a gradual transition of the ages, the link between the present and the future of Singapore's sky-high ambition is earmarked through a symbolic embodiment of expectancy and confidence with the Orbit Tower. Rising from the plains of the runway, the Orbit Tower forms a 70m high, 360 degree mind bending loop, where the tarmac of the airstrip twists and turns into the surface of the building. Consisting of vertical urban farms, multi-purpose halls and a sky terrace viewing deck, the looped building serves as the landmark and centrepiece of the 3.8km experiential journey.

Future – The Space Shuttle and Rock Climber's Tower

The end of the 3.8km journey through the runway is delineated with unbridled optimism of Singapore's possible reality as a space faring country. Alluding to George Mallory's famous statement upon scaling Mount Everest – "Because it is there" – the thematic experience of this "Future Zone" proposes an intrepid aspiration for Singaporeans to venture into outer space. The Future Zone is thus accentuated with competitive sports facilities such as ninja-warrior sports events, bungee jumping and hang-gliding, centred on promoting physical endurance and resilience to nurture future astronauts. The spatial experience then fully culminates with the apotheosis of the project – an 80m tall research tower incorporating a rock climbing tarmac road/ wall and a vibrant red space shuttle melded into its façade.